Gosberton Academy Graded Good In All Areas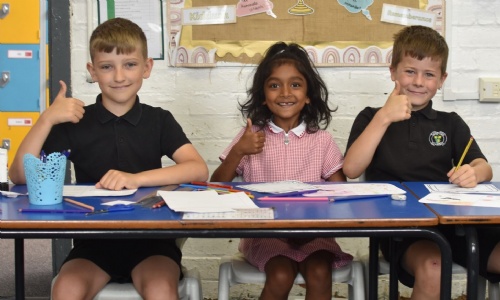 We are delighted to announce that our brilliant Gosberton Academy's latest Ofsted inspection has resulted in it being graded 'Good' in all areas - and 'Outstanding' for its Early Years provision.
As part of the glowing report, inspectors noted leaders at the school had improved the curriculum in "most subjects, ensuring it is purposeful and ambitious".
The academy was last inspected four years ago, when it was graded as 'Requires Improvement'.
Ofsted's latest inspection, carried out in June 2023, states: "Pupils are proud to belong to this welcoming and inclusive school.
"They enjoy exciting learning opportunities and their enthusiasm for school life is clear to see."
It added that pupils behave exceptionally well throughout the school, and feel happy and safe.
Headteacher Tom Baxter said: "It's something we're very proud of - the staff team come to work wanting to make a difference day in, day out, and it's great that all of that hard work has been recognised with such a positive report.
"Since our last Ofsted Inspection in 2019 a lot has happened, we've had a world pandemic to deal with but it has been an incredibly successful four years for the school.
"Our learners are exceptional. They come to school wanting to learn and want to be role models for their peers, while our families are so supportive and want the best for their children - it's a great place to work."
The Ofsted report continued: "In many subjects, including in English and mathematics, the school's high ambition is realised.
"Expectations for learning and behaviour are high.
"Positive attitudes to learning extend throughout the school.
"Warm relationships between adults and pupils are well established. Classrooms are calm spaces, where pupils show consistently positive attitudes towards their learning."
Inspectors also found that staff were proud to work at the school and felt valued.
Our CEO Emma Hadley said: "I am delighted that Ofsted recognised what a special place Gosberton Academy is and how the staff team go above and beyond to ensure that all learners receive a great education every day.
"The learners at Gosberton Academy always make us proud with their attitude, behaviour, enthusiasm and achievements and this report reflects how happy they are coming to school every day and the superb relationships that exist between pupils and also between pupils and adults.
"I would like to recognise and thank Tom Baxter as Headteacher for his leadership and the whole staff team for their ongoing commitment and passion for making Gosberton Academy the brilliant school that it is today."
Ofsted's report concluded:
"Leadership is effective at all levels. Leaders have a clear vision: to ensure that all pupils reach their potential.
"Trustees and trust leaders know the school well.

"They have played a key role in helping the school to improve."