Voyage Become Cyber Resilience Community Ambassadors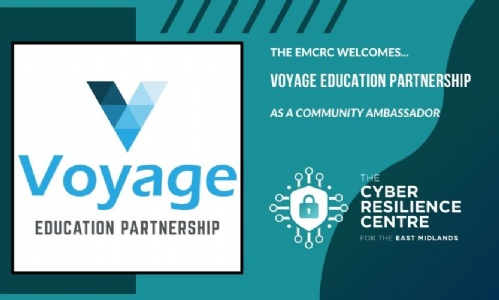 We are delighted to have been recognised as a Community Ambassador by the East Midlands Cyber Resilience Centre (EMCRC) for our strong commitment to cyber security.
This also means that all of our academies are now community members of the EMCRC.
With cyber security such a vital element within the education sector, our proud stance around our cyber security measures shows our communities that we are dedicated to maximising safety and resilience - key elements for any Trust. Going forward, we will be working with the EMCRC towards increasing awareness of cyber security and crime within the education sector.
We join other local companies who are verified as understanding the importance of cyber resilience - and who also want to spread the message as wide as possible.
Voyage's Digital Services Manager Luke Vere said: "We are pleased to be Community Ambassadors of the Cyber Resilience Centre for the East Midlands.
"With schools holding vast amounts of sensitive data on their pupils, and with an increasing number of schools becoming victims of cyber attacks such as ransomware, it is crucial that they begin to treat cyber security with the same level of importance as they do safeguarding.
"The EMCRC share our concern and offer great resources to schools to better protect and prepare themselves against such threats.
"I look forward to working alongside their MD, DI Colin Ellis, and his team as we embark on this journey to help ensure that schools in the East Midlands are better equipped against cyber and online threats."
A recent 2023 Cyber Security Breaches Survey showed 41% of UK primary schools and 63% of UK secondary schools had identified breaches or attacks in the last 12 months.
Phishing attacks remain the most popular method of attack, with 84% of UK primary schools and 86% of UK secondary schools experiencing phishing attacks in the last 12 months.
Mr Ellis, MD and Police Lead at the EMCRC, said: "I'm really pleased Voyage have joined us as one of our Community Ambassadors.
"Voyage understand that cyber security and cyber resilience is a must for successful operations, and to safeguard the data of both learners and staff - which is a prized commodity for cyber criminals.
"With Voyage signing up to work with us, that means nine Lincolnshire schools can now access our services - helping Voyage to keep them prepared and better protected.
"The Heads of those schools can demonstrate to their learners' parents that they take the security of their children's data very seriously. I hope other academies see Voyage's example and take similar action.
"Voyage are a great addition to the EMCRC's Community Ambassador group, and it shows our ambition as a Centre that we wish to partner with outstanding businesses and organisations."