Developing Our Middle Leaders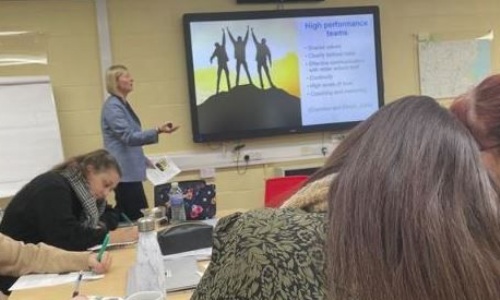 We have once again joined up with the Horncastle Education Trust (HET) - this time to introduce a second cohort of middle leaders across both Trusts to our Developing Middle Leadership Programme.
Leadership development is a key part of the Voyage Strategic aims, where offering a development programme is just one part of fulfilling the aim. A total of 18 Voyage staff from our academies are undertaking this particular programme, which is designed both for current middle leaders and those about to step into middle leadership.
It has been written and delivered jointly with leaders from HET and Voyage, with face-to-face sessions taking place at Staniland Academy and Queen Elizabeth's Grammar School, Horncastle. The sessions aim to develop confidence and leadership skills while improving abilities to lead, manage change, develop teams and set goals.
The programme is also designed to support middle leaders in unpicking and examining the role of the middle leader in school, and is delivered through a blended approach designed to:
• Provide opportunities to network and share best practice
• Engage in peer learning through reflection and group problem solving
• Benefit from the expertise of middle and senior leaders across both Trusts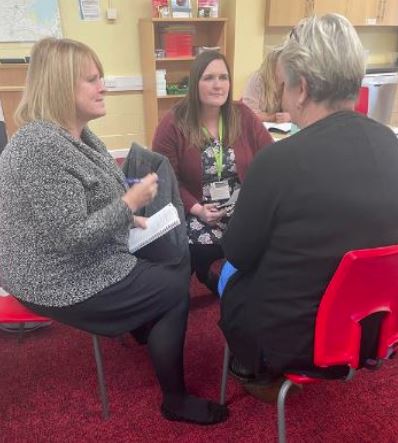 The focus sessions that have taken place so far have examined topics including:
• Leadership styles, emotional intelligence and effective leadership
• Barriers to successful change
• Stages of team development and building successful teams
• Coaching approaches which drive improvement
• Managing conflict
The remaining sessions will look at the importance of curriculum design, monitoring and evaluating teaching and learning, and reflection and leadership learning. There is also, new to this year, a self-directed module on understanding where the role of the middle leader fits within the Ofsted framework.
Some of the feedback received from participants so far:
"I have already considered my core values and beliefs. While these are areas of my working life, and indeed personal life, that are very important to me, I have never really spent time considering why they are important, how they impact on my life, where they stem from, etc."
"I felt the session on the difference between management and leadership was very interesting. I intend to use it to list areas I feel need driving and improving, and how I intend to do this, to ensure there is more leadership than management."
"I will think about the values I will not compromise, think about what kind of leader I think I am/the type of leader I want to be. I will also think about effective leadership skills."
"The whole session on Building Effective Teams has really left me thinking about my team and how we could be more effective. Thank you so much!"
Voyage's Chief Education Officer Clare Willerton said: "Voyage wants a culture that thrives – one with engaged professionals who drive change, are empowered, perform to their best, and promote growth.
"It is fantastic to be running the Developing Middle Leadership Programme as part of the wider leadership development strategy for Voyage. Participants are committed to applying their learning to build stronger relationships and develop their leadership skills further."
Also within Voyage's leadership strategic aims is 'to develop a whole MAT coaching culture and consistently train leaders to use coaching as a vehicle for improvement and behaviours'.
The Developing Middle Leadership Programme closely complements and feeds into our Coaching Leaders Programme, which commenced last year and continues this year with a wider group of leaders across the Trust.
This bespoke course encompasses several months' worth of practical and immersive training modules to equip participants with a 'toolbox' full of transformational techniques to enable and engage change, alongside honing people leadership skills. Modules on the course cover mindset, leadership, awareness, approach and behaviour.
Emma Hadley, Voyage's CEO, said: "We want coaching approaches to be at the heart of Voyage so everyone can take risks and contribute their own creative ideas, form cohesive and high performing teams, and give and receive constructive and motivating coaching feedback."