New Facilities Take Shape At Wygate Park Academy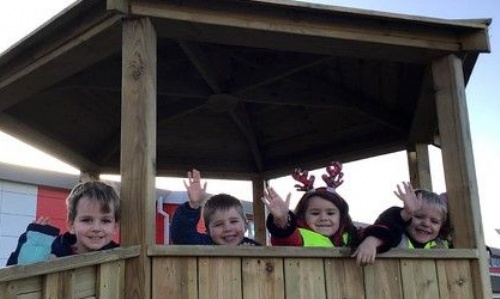 A new EYFS area, and general reading area, have been installed in the grounds of Wygate Park Academy for pupils to enjoy continuing their learning in.
In addition, the academy's recently installed library has also been stocked with thousands of new books.
Wygate Park Academy Headteacher Dr Craig Early said: "We are excited to have completed two huge projects at Wygate Park Academy - our dedicated outdoor reading area to compliment our brand new library, and our new EYFS Outdoor Area.
"Both of these projects support the two things we are passionate about at Wygate Park, namely Early Years and reading.
"Both areas also match what current research is saying around giving children the best opportunities to learn in the earliest stages of their educational development in EYFS, and how to encourage, develop and embed a lifelong love of reading through providing unique, interesting, comfortable and calm spaces for children to read and discuss books in.
"We cannot wait for the children to start using these areas!
"A special mention must go to the Voyage Estates Team and Jon Anderson, for helping project manage the build. Also to Newby Leisure for the fantastic job they did, and the Voyage Executive Team for backing the school in its ambitious plans to improve opportunities for all of our pupils."
Jon Anderson, Voyage's Health, Safety and Estates Manager, said: "After meeting with different specialist contractors in the Spring of 2022, Newby Leisure delivered the best value design - they captured all the key features staff had identified as part of their project proposals.
"Newby's staff worked tirelessly throughout the cold winter weeks we experienced in December to deliver an outstanding result that has surpassed our expectations.
"I would also like to say a big 'thank you' to all of the staff at Wygate Park Academy for their cooperation and flexibility while these works were being undertaken - and for making the Newby Leisure team feel so welcome."
THE ORIGINAL DESIGNS
THE WORK
THE RESULTS (watch the video showing the play area at www.twitter.com/i/status/1610951212169306113 )