A Myriad Of Teacher Training Opportunities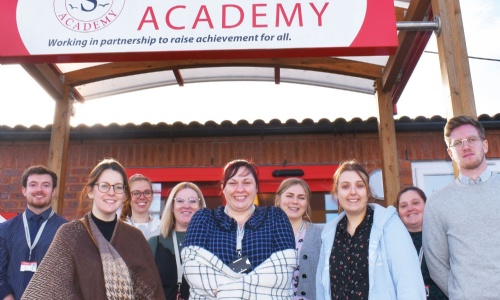 Voyage's mission to train high quality teachers of tomorrow continues apace.
Claire Needham, Voyage's Professional Learning Lead, works in close partnership with Initial Teacher Training providers and Lincolnshire's Appropriate Body, LEAD, to deliver School-Centred Initial Teacher Training, as well as the new statutory Early Career Framework.
She also facilitates partnerships with a number of other schools, MATs and organisations to enable the delivery of high standards in Initial Teacher Training (ITT) - ensuring Voyage continues to be a significant training delivery partner in the county.
Learning Partnership With Horncastle Education Trust
Voyage is proud of the partnership established with the Horncastle Education Trust. A strong rapport between the two MATs has resulted in two core pathways being developed this academic year to support Early Career Teachers, as well as the organisations' Middle Leaders.
Effective professional development is essential in our mission to nurture and empower our teachers. Using the combined experience and talent within the Trusts, we are developing robust pathways to ensure our skilled teachers are supported in their career development.
This bespoke development is designed to not only promote career progression, but to retain these talented members of staff within our schools to offer our learners the very best teaching and leadership that can be found in the region.
Opportunities
Claire said: "We want to use openings for existing teachers to take on roles as mentors, trainers and coaches. These are fabulous chances to enhance careers and gain important professional development.
"Voyage is proactive as a MAT and wants to encourage teachers at all levels to progress. We encourage our students as well as those currently working in our schools, maybe as Teaching Assistants, to consider teaching as a career.
"Voyage is a great place to work – you don't have to look far to find a range of opportunities for supported career development within the Trust."
A Quality Ethos
One of the best resources Voyage can provide for it's pupils is high quality, ambitious teachers.
Claire said: "We are doing as much as we can to achieve this. We have a fair degree of control over it too, a real voice, by working closely and consistently with our partners such as the Lincolnshire SCITT, the LEAD Teaching School Hub and Horncastle Education Partnership.
"We have enabled relationships to provide our learners with great teachers. The biggest impact on learning is the quality of teaching, and the biggest spend in schools is teachers and TAs - so we strive to provide our children with the best we can.
"As a Trust, high quality lifelong learning for both staff and pupils is our intent."
Training
For a rural community where opportunities have traditionally been limited, Voyage offers the area tremendous career development opportunities.
Claire said: "Being part of the teacher training programme has given both young people, and those seeking a career change, within our communities a channel to train to teach without having to go too far afield. It also means we can 'grow' our own talent, while supporting learning.
"We are proud of the fact that we can nurture individuals in our community from the moment they step into one of our school's nurseries, then support them every step of the way to fulfil their potential to become a teacher themselves."
Voyage already has many teachers in its schools who started there as pupils, subsequently trained through the SCITT programme and who are now giving back by educating the next generation.
Claire said: "The passion for learning we see in our trainees and teachers is special and we try to foster this. We are lucky to have so many individuals within Voyage who share this passion on a daily basis with their pupils.
"Our teaching programme has evolved and continues to do so. The statutory induction for Early Career Teachers (ECTs) means that teacher training now involves a fully supported 3-year programme of training. The first year is Initial Teacher Training, while the 2nd and 3rd years are government funded periods of professional development for ECTs partnered with the LEAD Teaching School Hub.
"Through our School-Centred Initial Teacher Training programme trainee teachers get the best of both worlds. We work with the University of Lincoln to deliver the theoretical side of the programme and our trainees also work in the classroom alongside a qualified teacher.
"We have a dedicated training facility based at Staniland Academy (pictured below) where university lecturers and school-based practitioners can deliver training."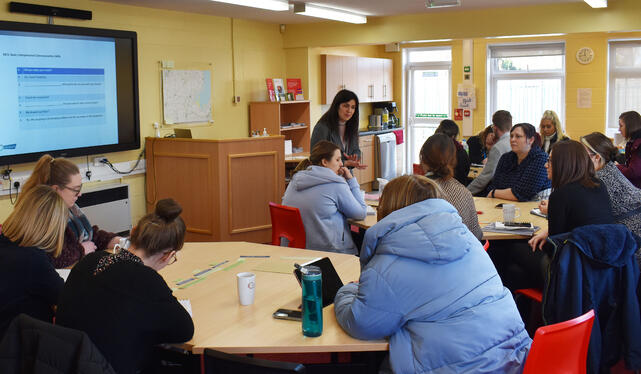 Mentorship
Established teachers within Voyage have an important role to play in the training of new teachers, which presents interesting career development opportunities. (Pictured at the start of this article are Staniland Academy's mentors, with their teaching students stood in front.)
Claire said: "The value of mentorship within teaching cannot be overestimated. By supporting and encouraging this we give new teachers an effective pathway into the profession, with our teachers also part of that picture.
"The professional development opportunities this offers our current teachers is widening. Career growth possibilities are now available that may suit teachers who prefer to stay in the classroom rather than becoming school leaders. Our children need great teachers to stay in the classroom!
"As a MAT this is adding to Voyage's career pathway opportunities while developing a web of new, diverse, rich opportunities for our staff. There is no longer a linear career path to becoming a school leader, mentorship is now very important too.
"New National Professional Qualifications (NPQs) have been rolled out by the Government this year to recognise and value the importance of giving effective career growth to teachers and school leaders at all levels. The reformed NPQs are available for teachers who want to develop their knowledge and skills in specialist areas of teaching practice.
"These opportunities exist in all schools and we want to engage more teachers with them to ensure we offer the best learning environment for everyone throughout Voyage.
"While promoting all of this we are aware that our school leaders have a great amount of empathy, providing the time and space for any extra work their staff take on. The balance between wellbeing and workload is important."
Impact of Covid
Considering the critical nature of an effective work-life balance, Voyage staff have shown incredible resilience in overcoming the challenges presented by the Covid pandemic over the past couple of years.
Although it has affected the traditional teacher training routine, everyone involved has willingly adapted to the new technologies and strategies of online and asynchronous learning - enabling us to maintain our training patterns and forge teacher progress.
Claire said: "Despite the challenges presented by Covid we have continued to evolve and currently have our biggest cohort than ever before. The future for the teaching profession in Lincolnshire is very bright!"
For further information about anything raised in this article please email Claire.Needham@voyage-education.org