Slipstream Helps Keep Pupils Safe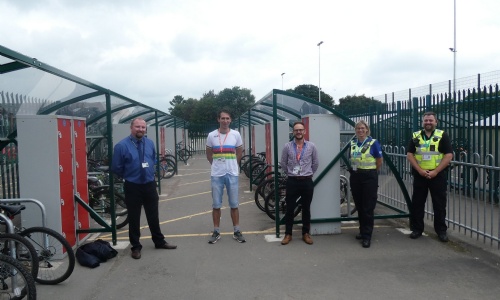 A new initiative which was launched recently at a Boston school is aiming to make cycling safer for its students.
Haven High Academy, which has campuses in Marian Road and Tollfield Road, launched Slipstream with guests from local road safety organisations and an amazing riding display for pupils courtesy of professional BMX stunt rider Joe Sproat.
While performing his show, Mr Sproat emphasised the importance of wearing a cycle helmet whenever you get on a bicycle.
Damien Daly, organiser of the Slipstream project, said: "Slipstream is aiming to help provide some discipline for our pupils who are cycling to and from school.
"It is already proving very popular and we are seeing its effects - with more pupils than ever before wearing helmets when riding their bikes.
"We want to see less cars around both school campuses at the start and end of the academic day, and more bicycles - as this leads to healthier lifestyles for our pupils."
Any student at Haven High Academy can be part of the Slipstream scheme. As a member they receive free healthy breakfasts, can leave school earlier than other students, gain entrance to special events at the school, get discounts at High Street shops - and are also given their own locker in the same place they store their bike.
The school is setting up a bicycle repair area and offering subsidies on purchasing new bicycles too. These can then be paid for via the school on a weekly basis.
Mr Daly said: "To be part of Slipstream pupils must wear a helmet when cycling - and obviously are rewarded for doing so. We want to both encourage all of our students to ride safely and increase the number of children wearing helmets on Boston's roads."